Your Full-Service Electrical Contractors
Commercial Electrical Services
You need a team of professional contractors to handle every commercial electrical problem or project efficiently, reliably and above code. From troubleshooting & repairs to installing wiring when you remodel your office, breakroom or the entire office… we cover it all.
The proof is in our performance! When you hire Colonial Electric for your commercial electrical needs, you will immediately understand why our customers keep coming back to us.
Try us once, keep us for life.
Commercial electrical expertise for every job you can throw at us: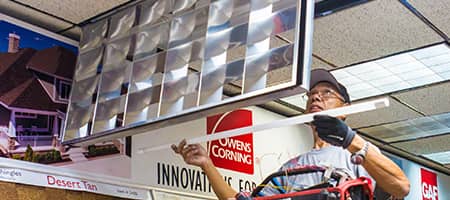 Electrical Installations:
Commercial electrical installation services
LED upgrades and retrofittings
Upgrading your traditional incandescent or halogen system to a more energy efficient LED system is one of our specialties.
Electrical Service Panel Upgrades
Here in Arizona, it's common to have a an original electrical panel from the 50's, 60's, 70's or 80's. It's time you upgrade your service panel for the 21st Century.
New Construction
Handling your electrical needs with new construction for your commercial locations
Upgrade Lighting
Recessed lighting upgrades, under-cabinet lighting, and more for your commercial electrical needs
Sight Lighting for Commercial Complexes
Parking lots
Recreation areas
Commercial Tenement Improvements
Updating your commercial spaces to meet your needs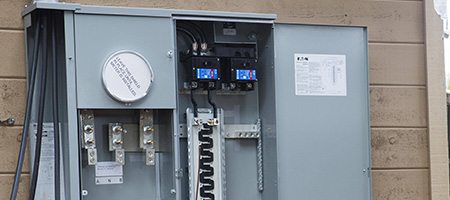 Electrical Repairs:
Standard commercial electrical repairs
Service Calls & Troubleshooting
Helping you troubleshoot and repair:
Outlets
Lighting fixtures
Exterior lighting
And more
View Our Work